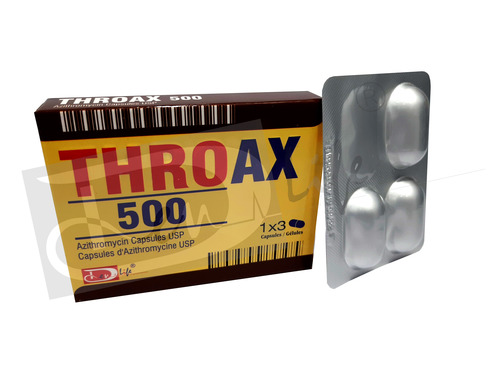 Azithromycin Capsules
Product Specifications
Each hard gelatin capsule contains:Azithromycin USP (As Dihydrate)Eq. to Azithromycin (Anhydrous) .... 500 mg Excipients ........................................... q.s.Approved colour used in capsule shell.

Capsules
500mg

As directed by the Physician.
Product Description
COMPOSITION:
Eachhard gelatin capsule contains:
AzithromycinUSP (As Dihydrate)
Eq.to Azithromycin (Anhydrous) .... 500 mg
Excipients........................................... q.s.
Approvedcolour used in capsule shell.
INDICATIONS:
AzithromycinCapsules are indicated in the treatment of the following infections:
AcuteBacterial Sinusitis, Acute Bacterial Otitis Media, Pharyngitis, Tonsillitis,Acute exacerabation of Chronic Bronchitis, Mild to moderately severe communityacquired pneumonia, skin and soft tissue infections, uncomplicated Chlamydiatrachomatis urethritis and cervicitis
DOSAGE & ADMINISTRATION:
Adultsand Elderly
Foruncomplicated Chlamydia Trachomatis urethritis and cervicitis: 1000 mg as asingle oral dose
Forall other indications: 1500 mg; to be administered as 500 mg per day for threeconsecutive days
PediatricPopulation
Azithromycincapsules should only be administered to children weighing more than 45 kg whennormal adult dose should be used. For children under 45 kg other pharmaceuticalforms of azithromycin, e.g. suspensions, may be used.
Contact Us
C-912, Kailas Business Park, Park site, Vikhroli West, Mumbai, Maharashtra, 400079, India
Phone :+918037304165