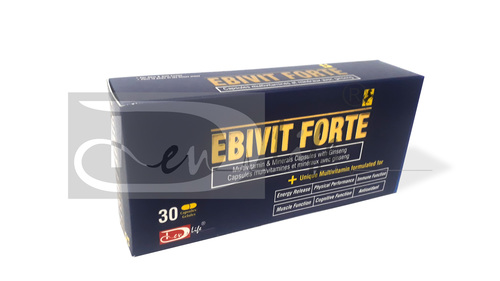 Multivitamin capsule
Product Specifications
General Medicines

COMPOSITION :Each soft gelatin capsule contains :Vitamin A (As Palmitate) BP .................................................. 2500 IU Vitamin B1 BP ............................................................................. 1 mg Vitamin B2 BP ............................................................................. 1 mg Vitamin B6 BP ........................................................................ 0.50 mg Vitamin B12 BP ......................................................................... 1 mcg Vitamin E BP ............................................................................... 5 mg Vitamin D3 BP .......................................................................... 200 IU Calcium Pantothenate BP ........................................................... 1 mg Nicotinamide BP ...................................................................... 15 mg Folic Acid BP .......................................................................... 50 mcg Copper (From Copper Sulphate Anhydrous BP) ................... 0.45 mg Iodine (From Potassium Iodide BP) .................................... 0.075 mg Manganese (From Manganese Sulphate BP) ....................... 0.05 mg Calcium (From Dibasic Calcium Phosphate BP) ...................... 75 mg Phosphorus (From Dibasic Calcium Phosphate BP) ................ 58 mg Iron (From Ferrous Sulphate BP) ............................................... 5 mg Magnesium (From Magnesium Sulphate BP) ............................. 3 mg Potassium (From Potassium Sulphate BP) ................................ 2 mg Zinc (From Zinc Sulphate BP) ............................................... 0.15 mg Ginseng Extract JP ............................................................... 990 mcg Excipients ...................................................................................... q.s
Capsules

Store in a cool & dry place, below 30°C. Protect from light. Keep out of reach of children.
Product Description
EBIVIT FORTE
COMPOSITION:
Eachsoft gelatin capsule contains :
VitaminA (As Palmitate) BP : 2500 IU
Vitamin B1 BP : 1 mg
Vitamin B2 BP : 1 mg
Vitamin B 6 BP : 0.50 mg
Vitamin B12 BP : 1 mcg
Vitamin E BP : 5 mg
Vitamin D3 BP : 200 IU
Calcium Pantothenate BP : 1 mg
NicotinamideBP : 15 mg
FolicAcid BP : 50 mcg
Copper(From Copper Sulphate Anhydrous BP) . : 0.45 mg
Iodine(From Potassium Iodide BP) : 0.075 mg
Manganese(From Manganese Sulphate BP) : 0.05 mg
Calcium(From Dibasic Calcium Phosphate BP) : 75 mg
Phosphorus(From Dibasic Calcium Phosphate BP) : 58 mg
Iron(From Ferrous Sulphate BP) : 5 mg
Magnesium(From Magnesium Sulphate BP) : 3 mg
Potassium(From Potassium Sulphate BP) : 2 mg
Zinc(From Zinc Sulphate BP) : 0.15 mg
Ginseng Extract JP : 990 mcg
Excipients : q.s
Overages of Vitamins added to compensate loss on storage.
CLINICAL PHARMACOLOGY :
Vitamins and dietary minerals arefundamentally involved in vital metabolic processes. Where they usually act asoxidising or reducing agents and as factors in various enzyme systems. Theseessential micronutrients are so closely interrelated that the lack of any oneof them may effect the body requirements of others.
METABOLIC FUNCTIONS OF INOGRANIC IONS :
Iron may be functioning (as haemoglobin,myoglobin, heme enzymes and confactor and transport iron) or stores as ferritinor Haemosiderin in liver, spleen, bone marrow and reticuloendothelial system.Certain peptidases and phosphatase require magnesium for maximal activity.
Vitamin A is essential for the production andregeneration of visual purple of retina, for maintenance of integrity ofepithelial tissues. Vitamin D is essential for the growth of bone throughregulation of calcium absorption.
B-Complex vitamins usually function asco-enzymes in carbohydrates, proteins and amino acids metabolism, synthesis ofDNA, maturation of RBCs, nerve cell function.
Trade Information
Yes

30 Capsules in Printed Carton with pack insert.
Contact Us
C-912, Kailas Business Park, Park site, Vikhroli West, Mumbai, Maharashtra, 400079, India
Phone :+918037304165