Cefuroxime Axetile Tablets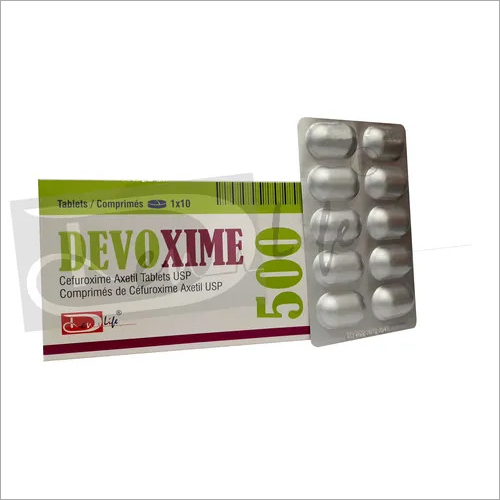 Cefuroxime Axetile Tablets
Product Description
COMPOSITION:
Each film coated tablet contains:
Cefuroxime Axetile USP
Eq. to Cefuroxime 250mg
Excipients qs
Colour: Titanium Dioxide BP
INDICATION:
DEVOXIME is used to treat infections of:
the throat
sinus
middle ear
the lungs or chest
the urinary tract
the skin and soft tissues.
DEVOXIME can also be used to treat Lyme disease (an infection spread by parasites called ticks).
DOSAGE AND ADMINISTRATION:
Adults
The recommended dose of DEVOXIME is 250 mg to 500 mg twice daily depending on the severity and type of infection. Children
The recommended dose of DEVOXIME is 10 mg/kg (to a maximum of 125 mg) to 15 mg/kg (to a maximum of 250mg) twice daily depending on: the severity and type of infection
Product details
| | |
| --- | --- |
| Prescription/Non prescription | Prescription |
| Manufacturer | DEV LIFE CORPORATION |
| Composition | Each film coated tablet contains |
| :Form | Tablet |
| Packaging Size | 250 mg |
| Brand | DEVOXIME |