Clopidogrel Tablets USP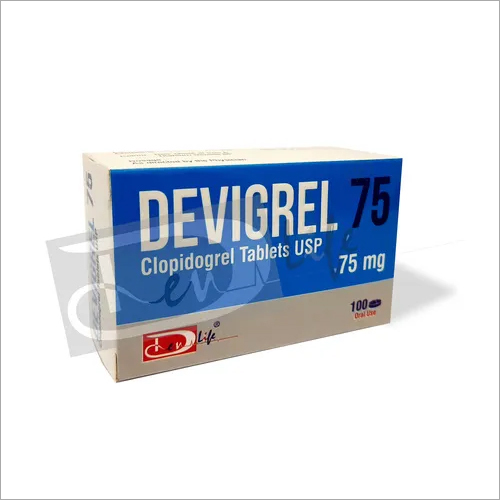 Clopidogrel Tablets USP
Product Specifications
Each film coated tablet contains: Clopidogrel Bisulfate USP eq to Clopidogrel .......... 75 mg Excipients .............................................................. q.s.

Tablets
Product Description
COMPOSITION:
Each film coated tabletcontains:
Clopidogrel Bisulfate USP
Eq. to Clopidogrel 75 mg
Excipients q.s.
Colour: Red Oxide of Iron& Titanuim Dioxide BP
INDICATION:
Clopidogrel bisulfate isindicated for the reduction of atherothrombotic events as follows:
Recent MI, Recent Stroke or Established PeripheralArterial Disease For patients with ahistory of recent myocardial infarction, recent stroke, or establishedperipheral arterial disease, clopidogrel bisulfate has been shown to reduce the rate of a combinedendpoint of new ischemic stroke, new MI, and other vascular death.
Acute Coronary Syndrome For patients with acutecoronary syndrome including patients who are to be managed medically and thosewho are to be managed withpercutaneous coronary intervention or CABG, clopidogrelbisulfate has been shown to decrease the rate of a combined endpoint ofcardiovascular death, MI, or stroke as well as the rate of a combined endpoint of cardiovascular death, MI,stroke, or refractory ischemia.
For the reduction of atherothrombotic events as follows:
-Recent Myocardial Infarction, Recent Stroke or Established Peripheral Arterial Disease
-Acute Coronary Syndrome
Product details
| | |
| --- | --- |
| Form | Tablet |
| Manufacturer | Dev Life Corporation |
| Brand | DEVIGREL 75 |
| Packaging Size | 100 Tablets |
| Composition | Each film coated tablet contains: Clopidogrel Bisulfate USP eq to Clopidogrel 75 mg Excip |
Contact Us
Off. No.912, J-wing, 9th Flr, Cts.no.1/7, Kailash Business Park, Vikhroli Park Site,, Mumbai, Maharashtra, 400079, India
Phone :+918037304165