Erythromycin Stearate Oral Suspension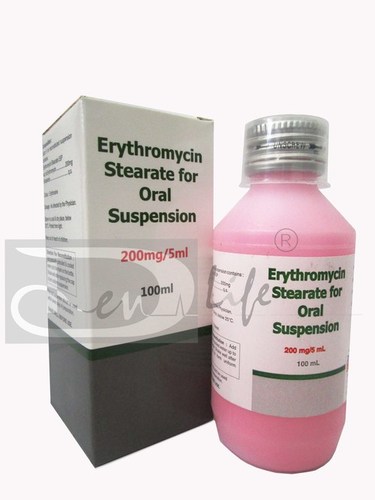 Erythromycin Stearate Oral Suspension
Product Description
Having extensive knowledge of the domain, we are engaged in manufacturing and exporting Erythromycin Stearate Oral Suspension at the best economic prices. This suspension is used for the treatment of different types of bacterial infections. It is given by mouth and is safe for children as well as adults. This suspension is a macrolide antibiotic drug that works by stopping the growth of bacteria. Erythromycin Stearate Oral Suspension is only effective in case of bacterial infections and not for viral infections. Some minor side effects like nausea, dizziness, vomiting, stomach pain or loss of appetite are possible but do not occur always.

Key Points:

Safe to consume

Easily absorbed by the body

Hygienic and sterile packaging

Erythromycin Stearate Oral Suspension

ERYTHROMYCIN is used for treating infections caused by certain bacteria. It is also used to prevent bacterial endocarditis and attacks of rheumatic fever. ERYTHROMYCIN is a macrolide antibiotic. It works by slowing the growth of, or sometimes killing, sensitive bacteria by reducing the production of important proteins needed by the bacterial to survive.
Product details
| | |
| --- | --- |
| Dosage Form | Powder for Oral Suspension |
| Prescription/Non prescription | Prescription |
| Shelf life | 3 Years |
| Also gives | Third Party Manufacturing |
| Treatment | Macrolide Antibiotics |
| Manufacturer | DEVLIFE CORPORATION PVT. LTD. |
| Composition | Erythromycin Stearate USP Eq. to Erythromycin 125 mg |
| Form | ORAL SUSPENSION |
| Packaging Size | 100 ml |
| Brand | ERYSTY DS |