Lisinopril Tablets USP 10mg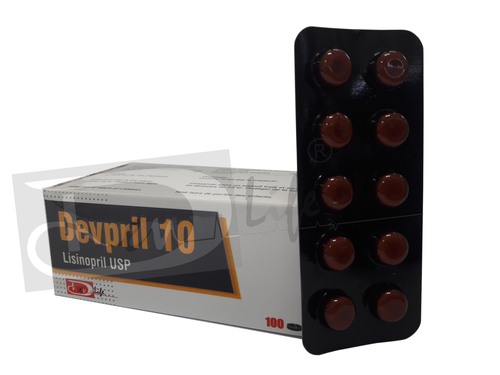 Lisinopril Tablets USP 10mg
Product Specifications
General Medicines

COMPOSITION: Each uncoated tablet contains: Lisinopril USP eq. to Lisinopril Anhydrous...10mg Excipients.....................................................qs
Tablets

AS INSTRUCTED BY PHYSICIAN
AS INSTRUCTED BY PHYSICIAN

Store in a cool & dry place, below 25C. Protect from light. Keep out of reach of children.
Product Description
DEVPRIL 10
Lisinopril TabletsUSP 10mg
COMPOSITION:
Each uncoated tablet contains:
Lisinopril USP eq. to LisinoprilAnhydrous...10mg
Excipients.....................................................qs
INDICATION:
Lisinoprilbelongsto a group of medicines called ACE inhibitors. These cause the bloodvessels to relax, making it easierforthe blood to pass through them.
Lisinopriltablets are used to treat:
High blood pressure.
Heart failure.
Diabetic kidney disease in patients with high blood pressure.
Patients who are stable but have had a heart attack within the last 24hours(shortterm treatment).
Lisinopril is recommended in children (above 6 years old) only forthe treatmentof high blood pressure (hypertension). Lisinopril should not be used inchildren with severe kidney impairment.
Product details
| | |
| --- | --- |
| Shelf life | 36 MONTHS |
| Form | Tablet |
| Manufacturer | DEV LIFE CORPORATION |
| Brand | DEVAPRIL-H |
| Pack size | 10 X 10 |
| Packaging Type | 10 X 10 BLISTER |
| Composition | COMPOSITION Each uncoated tablet contains Lisinopril USP eq. to Lisinopril Anhydrous...10mg Ex |
Trade Information
100 Tablets in Printed Carton