Nystatin Tablets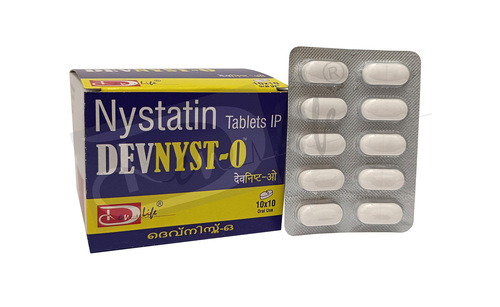 Nystatin Tablets
Product Description
Indication:
Prophylaxis and treatment of diseases, caused by oidium albicans: treatment of candidiasis of the mucous membranes (oral cavity, vagina) and viscera (gastro-intestinal tract, lungs, kidneys). With prophylactic mean - to prevent the development of candidiasis during protracted antibiotic therapy, as well as in case of cachexia and in patients with immune deficiency.
Dosage and Administration:
The preparation is administered orally.
Adult- 500000-1000000 IU, 3-4 times daily. In case of severe candidiasis the daily dosage can be doubled.

Age Dosage

Up to 1 Year 100000 IU, 3-4 Times Daily
From 1 to 3 Years 200000 IU, 3-4 Times Daily
For 3 Years of Age or Older 200000 IU - 400000 IU, 3-4 Times Dail
For prophylaxis of candidias is :
in adults- 1000000 IU daily,
in newborns- 100000 IU daily,
In the treatment of oral candidiasis, it is advisable to retain the tablet in the mouth for as much time as possible.
Nystatin medication should continue for at least 48 hours after the disappearance of the symptoms so as to prevent recidivations.
Provided the symptoms of the disease are not affected up to the 14th day after initiation of Nystatin treatment, the latter should be discontinued.
Product details


| | |
| --- | --- |
| Dosage | As directed by the Physician. |
| Manufacturer | DEV LIFE CORPORATION |
| Brand | DEVNYST-O |
| Packaging Size | 10 x 10 Tablets |
| Usage/Application | Commercial |
| Dose | <100 mg |
| Prescription/Non prescription | Prescription |
| Composition | Each film coated tablet contains |
| :Packaging Type | Strips |